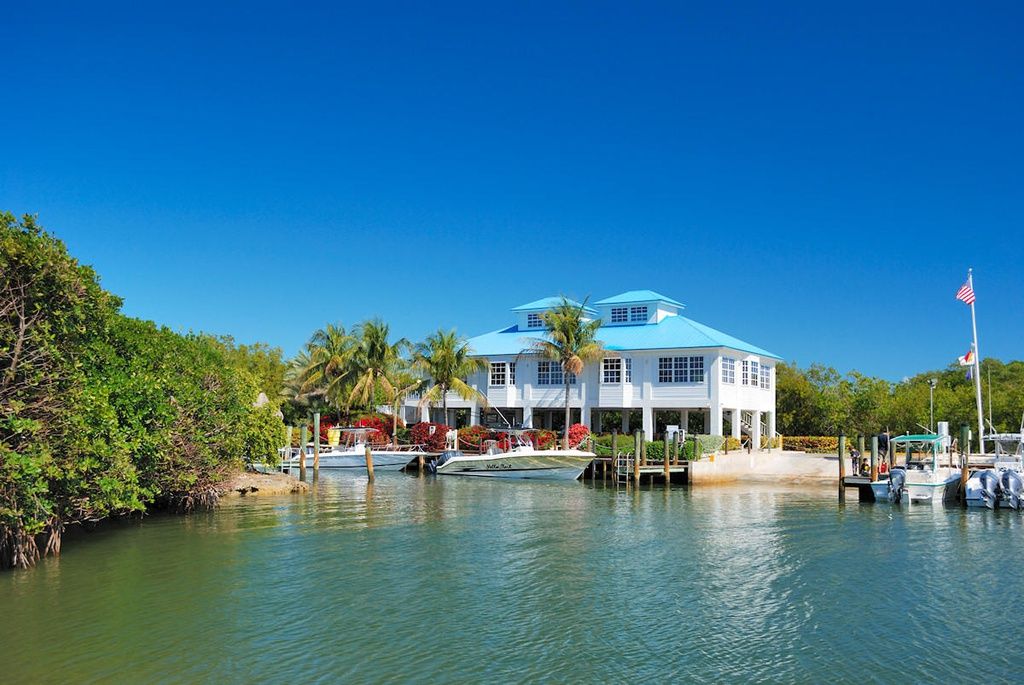 Sangria Sunrise
---
We would like to cordially invite you to our vacation home, Sangria Sunrise!
Our cozy one bedroom one bathroom unit is located on the top floor of Ocean Pointe Suites located in beautiful Tavernier Florida and boasts the most amazing ocean views right from the balcony.
Sangria Sunrise is in the Sailfish building; one of five buildings within the 60 acres that Ocean Pointe Suites Resort resides on. The unit itself has been recently updated and furnished with our finishing touches to make anyone feel like they are at a beachy resort whilst still having the comforts of home. The full kitchen allows you and your family to have the option to prepare your own gourmet meals, or take the 2 minute stroll to the highly rated restaurant at the marina. It is stocked with flatware, pots, pans, and all the basic items needed to cook your favorite dish. The granite counter tops have ample room for prepping your fresh catch or setting up your take out. Our unit hosts one bedroom that is tastefully furnished with an amazingly comfortable bed and custom linens. My wife and I were determined NOT to have those drab hotel linens that many other units utilize. The bathroom, which has also been updated, has newer tile, granite counters and all the luxuries you would need. The living room is situated where your view out is breath-taking. The pull out couch is more than large enough and comfortable enough for kids and adults. But really with the many activities within Ocean Pointe how often are you really going to be inside?
The entire property is set up to cater to any personality or desire. If you are looking for peace and quiet then this is made for you. Grab your favorite book and find one of the many secluded spots to get lost in. If you are just looking to relax and get a tan, then we have the rays for you! Pick your tanning spot! Overlooking the traditional Florida Keys beach that's only steps away from Sangria Sunrise, or grab your spot by the pool! While at the pool make sure to stop in the poolside bar for some of their fantastic drinks. If you are looking for adventure then you've also come to the right place! The onsite activity rental kiosk is located below the Ocean Pointe restaurant and they are ready to get you out on your adventure. Rent a kayak and explore the back country viewing all the wildlife. Grab a paddleboard and go meet a manatee. The options are endless.
Of course one of the most popular options is fishing. You are visiting the proclaimed "fishing capital of the world" so it would only be fitting to get your line wet while here! The options are everywhere. Don't have a boat? No problem. One of the hundreds of captains can easily get your on your targeted species. From back water bone fish and tarpon to offshore mahi and tuna there is something for everyone. So you brought your own boat? That's even better! Pull your boat into the on property marina with ramp and you are all set to head out for your catch. (make sure to make your separate reservations with the marina).
So you want to go explore all the Florida Keys. Great idea, as we are very centrally located and have a short drive to everywhere! Pick a day and head South on US1 / Overseas Highway. There is a plethora of things to do and unless you are here long term you will have to choose which are your priorities. Let us help you. Leave early, and start by going to Robbie's Marina and feeding the Tarpon! We have been to the keys countless times and we still stop here every time. It also has a quaint little area with lots of small shops and touristy things that are hard to pass up. Continue South and stop at Sombrero Beach. The best white sandy beach the Keys have to offer! Enjoy a dip in the water to cool down and then continue south to Key West. You will have to stop at "Southernmost Point" which is a tourist landmark that everyone needs a selfie with. Walk the strip down main street and to save time rent a bike or golf cart. Tour the island and get a feel for the old style Keys! Getting a little tired? head back north and get all tucked in back at Sangria Sunrise. Make sure to stop at Sunset Grille by 7 mile bridge for a great dinner and beautiful sunset. Or if you are in it for the long haul watch the sunset from pier at the north end of Key West. The performers paired with the world class sunset is sure to please even the pickiest of travelers. Have a nice dinner and enjoy some drinks in the many restaurants. Make sure to sober up before making the beautiful scenic drive north.
So you have read a taste of what Sangria Sunrise can offer you. Your next step is to figure out when you can make it down. We can cater to whatever the occasion is and help plan a surprise for that special person in your life. Whether you are a Keys first timer, or a long time resident, a private getaway or some time with the kids, we can assure you that Sunrise Sangria will create memories that you and yours will never forget! We look forward to hearing from you and are happy to answer any questions you may have!

---